X-PRO 250cc 6 Speed EFI Fuel Injection Dirt Bike Motorcycle Bike Street Bike Motorcycle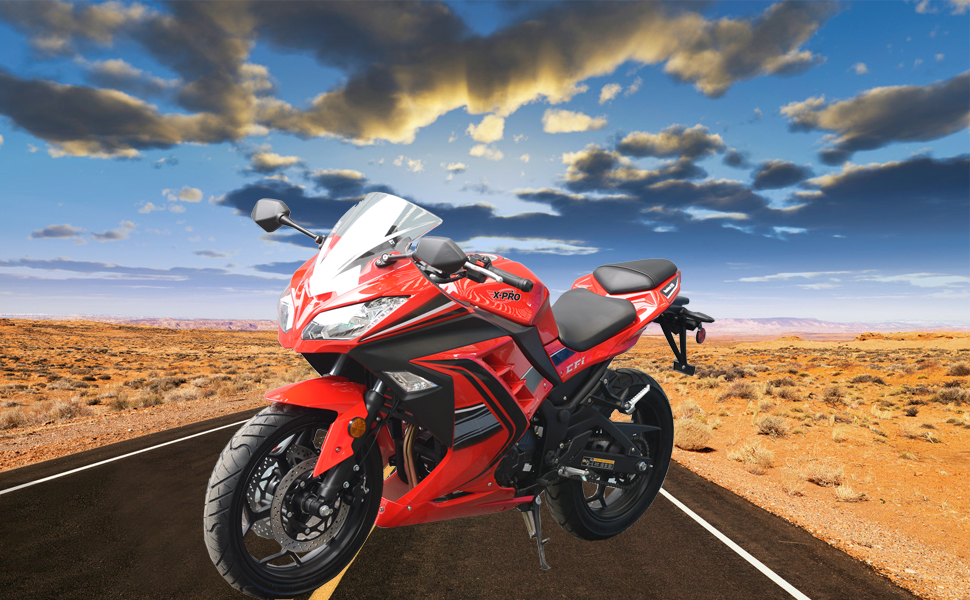 6 Benefits of EFI Technology
The engine control unit (ECU) is the brain of the EFI engine and the reason for many advantages of EFI. The ECU interprets a variety of information from sensors throughout the engine so that it can continually run at an optimal level.
Reduced fuel consumption & emissions
By monitoring the engine sensors, the ECU determines the precise amount of fuel that needs to be delivered by the injector. It also delivers the exact air/fuel ratio to the engine by activating the injectors for the precise amount of time. Fine tuning this delivery results in better fuel economy by reducing consumption up to 25 percent and emissions control up to 20 percent.
Not only are there no carburetor maintenance or replacement costs, there is also less servicing needed in general. The fuel system, for example, is entirely sealed so the gasoline does not encounter oxygen, which causes it to go bad. This prevents the needs for bringing the engine in for servicing in the spring as a result of contaminated gas.
Changes in altitude can affect any engine's performance and in higher altitudes there is less oxygen. In a carbureted engine, operators would be required to change the carburetors jetting, but with EFI, it automatically compensates for the change in altitude by sensing the air temperature and density. It would then modify the fuel flowing through the injectors to provide the correct mixture for that current altitude.
Eliminating carburetor float problems
An EFI system is all electronic. Because of this it has an injector, which means it doesn't require a fuel float that you would find in a carburetor. The carburetor floats can bounce around causing a lot of problems, especially with the movement of vehicles.
Specifications
| | |
| --- | --- |
| Engine | 223cc 165FMM-P, 4-stroke, single-cylinder |
| Cooling System | Air Cooled |
| Max Horsepower | 11.5 |
| Max Torque: | 17N.M/5500r/min |
| Transmission | Manual |
| Start System | Electric |
| Ignition | Engine Control Module(ECM) |
| Final Drive | Chain Drive |
| | |
| --- | --- |
| Max Speed (MPH) | 65+ (Depending on Riders Weight and Road Conditions) |
| Battery | 12V/9Ah |
| Front Brake | Disc Brake |
| Rear Brake | Disc Brake |
| Front Tire | 110/70-17 |
| Rear Tire | 140/70-17 |
| Weight Capacity (lbs) | 374 |
| Gross Weight (lbs) | 390 |
| | |
| --- | --- |
| Net Weight (lbs) | 313 |
| Overall Length | 82" |
| Overall Width | 29.5" |
| Overall Hight | 46.5" |
| Carton: L*W*H | 83x22x41" |
| Wheelbase | 56" |
| | |
| --- | --- |
| Ground Clearance | 5.9" |
| Fuel Capacity | 13.5L |
| Headlight | Yes |
| Tail Light | Yes |
| Turn signal lights | Yes |