Bestqool Red Light Therapy Device for Body, Face. Near Infrared Light 660nm 850nm, 100W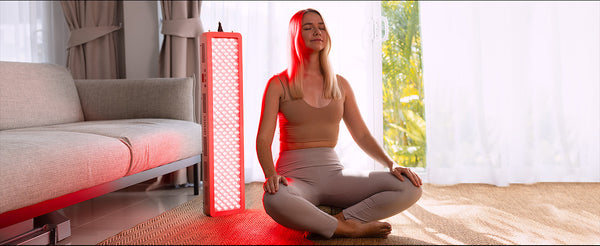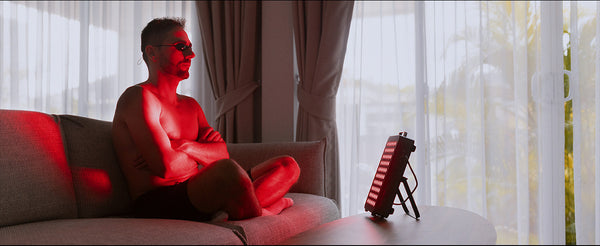 Features:
SAY GOODBYE TO EXPENSIVE SPA: Saving numerous time and money to regain healthy mind & body at home. 10 minutes of irradiation with our red light therapy is equal to 20 minutes of other devices. An easy way to optimize collagen production and improve workout recovery without the effort. Light is as essential to cells as food is to people. With 30 days return policy, if you never try, you'll never know!
THREE MODES OFFER MULTIPURPOSE USE: If you're looking for reducing wrinkles, pain relief, skin health, better sleep, energy and performance or rapid recovery from workouts, our red and near infrared light therapy can help! Bestqool red light therapy device delivers an irradiance of higher than 120mW/cm2 at the surface, 74mW/cm2 at 6 inches. Power consumption is the most crucial element in determining the success of therapy. The greater the power consumption, the better effect you get.
NATURAL. SAFE. NON-INVASIVE: Our Red and near infrared therapy brings the powerful effect for both superficial & topical as well as deep tissue. 60 degree beam angle with dual chip red 660 and near infrared 850 wavelengths. These wavelengths are ideal for reducing inflammation, enhancing recovery, improving sleep and so much more. Low heat release for skin contact use, smart control system gives you greater flexibility and personalization to create your own therapy. Measures 13.2 x 9.1 x 2.7.
DURABLE, HANDS-FREE DESIGN: BQ60 dual-chip red light panel comes as a full package, includes user manual, hanging kit, and eye protection, complete with a built-in cooling fan to dissipate heat. The light therapy can be placed on a table or hung on the wall to provide a 16"x14" irradiated area. Get the healthy benefits while you are working, relaxing or lying down.
THE MOST INTIMATE GIFT: Red light therapy is suitable for anyone and is a great gift or birthday present for your family and friends. Our worry-free 2 years warranty and friendly customer service makes you feel like grandma's love! The 30-day testing period is sure to bring you peace of mind!