Cuisinart Bread Maker Machine, Compact and Automatic, Up to 2lb Loaves

Features:
Cuisinart-quality technology promises superior crust, color and texture.UC Cubic Feet: 1.180, MC Cubic Feet: 1.350.MC Cubic Feet: 1.350, MC Cubic Feet: 1.350
12 preprogrammed menu options - fully automatic, easy to use
3 crust shades - light, medium, or dark & bakes up to a 2 pound loaf
Vertical baking pan for counter-friendly compact design - removable kneading paddle and bread pan
Lid with viewing window to monitor the process - interior light to check bread as it bakes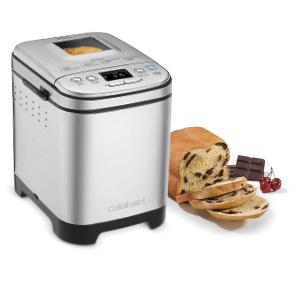 Make Homemade Bread an Everyday Treat
Versatile and compact automatic bread maker offers a variety of crust colors and loaf sizes, as well as pre-programmed menu options.
Foolproof recipes include everything from gluten-free and artisan breads to jams and sauces.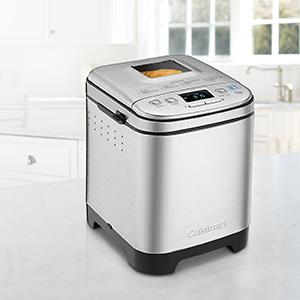 Mixes, Kneads, Rises, Bakes and Keeps it Warm - Automatically
Think beyond bread and delight family and friends with cakes, pizza, and other treats made in your breadmaker.
Keep it healthy and use whole grains, nutrient rich nuts and dried fruit.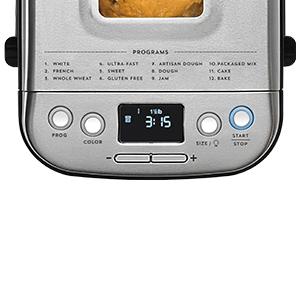 Plenty of Delicious Options
LCD display offers clear view of countdown time, current cycle, and selected options.
12 pre-programmed menu options for a variety of breads.
3 crust shades – light, medium, dark.
3 loaf sizes – 1, 1.5, and 2 lbs.