DEWBU Heated Jacket for Men with 12V Battery Pack Winter Outdoor Soft Shell Electric Heating Coat, XL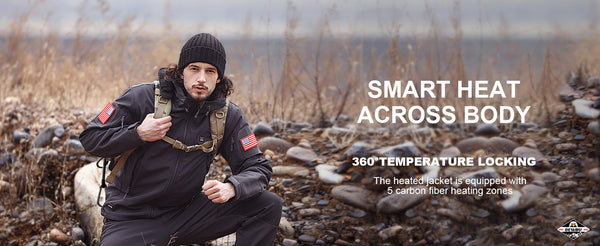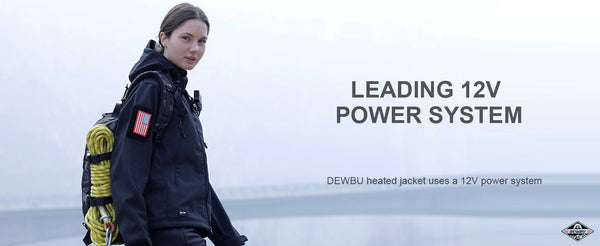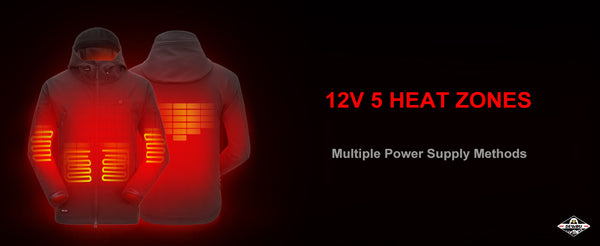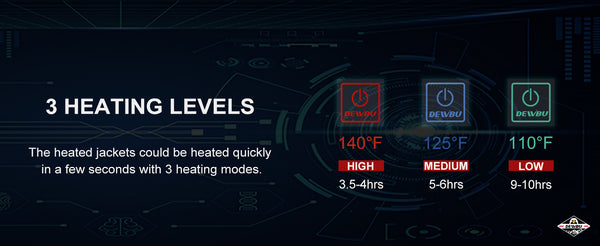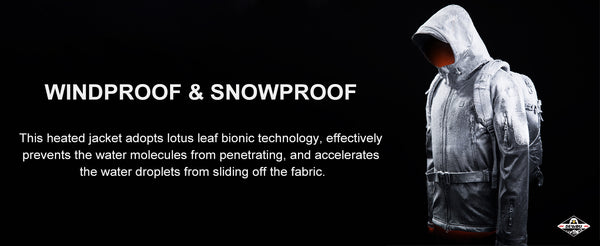 Features:
12V 5 Heating Zones: The heated jackets are equipped with 5 carbon fiber heating zones (two on front, one on back, and one on each arm). It can heat up your entire core body area and keeps you warm, there are two heating zones near the front pockets that can keep your hands warm at the same time. You can adjust 3 heating modes by short-pressing the power button (Red, Blue, and Green).
12V Battery/Intelligent Led Display: The equipped high capacity 54Wh 12V CE/FCC certified battery can heat the heating elements up to 140°F within a few seconds. Our heated jackets can keep warm up to 3.5-4 hours at the high level, 9-10 hours at the low level. The USB Type-C port can be used to charge smartphones and other mobile devices.
Durable/Easy Care: DEWBU heated coats are built with high-quality and professional water resistant soft shell materials with excellent breathability. They also have good tensile strength, scratch resistance and wind resistance. Heating elements and overall jacket structure are designed to endure routine hand or machine wash.
Foldable Hat & Multiple Pockets: The heated hoodie offers you great flexibility by having a foldable hat. They also offer you excellent utility by having 2 large zipper chest pockets, 2 back pockets, 2 small left arm pockets, and 1 small pocket on the right sleeve.
Multiple Power Supply Methods: DEWBU heated jacket uses a 12V power system, which can be connected to the portable power station, motorbike, boat, ATV, snowmobile, or any other vehicle through a DEWBU 12V connector wire (Connector Wire Sold by DEWBU Separately) to keep you warm in extremely cold winter without time limited.
Details: Battery specifications:
Model number: CN-7440B
Voltage: 7.4 V
Capacity: 4400 mAh
Material: Lithium
Input: DC 8.4 V 1.0 - 1.2 A
Output: MAX 25 W

How to connect the power:
The coat has a special Built-in battery pocket, where you can take out the DC power connector and plug it to the battery. Finally put them into the pocket.
Operating instructions:
1.To turn on the power switch, Long press 3 seconds to boot and then, and you can see red LED light.(It's in high temperature status now)
2.About 5 minutes later, it turns automatically to blue LED light. (It's in medium temperature status now)
3.Different temperature status will be shown when you push the power button quickly,will rise to 55°C (red LED light) on high mode, 45°C (blue LED light) on medium mode,and 38°C (green LED light) on low mode.
4.To turn off,press and hold the power button until the LEDS turn off (about 3 seconds). Cleaning instruction: Disconnect and remove battery pack from battery holder pocket before washing. Put the power cable into the pocket and zip up.
Tips: Charging about 5 hours, the charger's red light turns green means full now.,which means full electric power of battery.
Packaging list included: 1x Heating apparel 1x Battery 1x Battery charger1x Instruction manual
Notice: If you feel unconfortable when wearing the jacket,Please take off the power supply and contact us about the issues.