POPULO Electric Drain Auger,25Ft Plumbing Snake Drain Clog Remover Tools, Cordless Drain Cleaner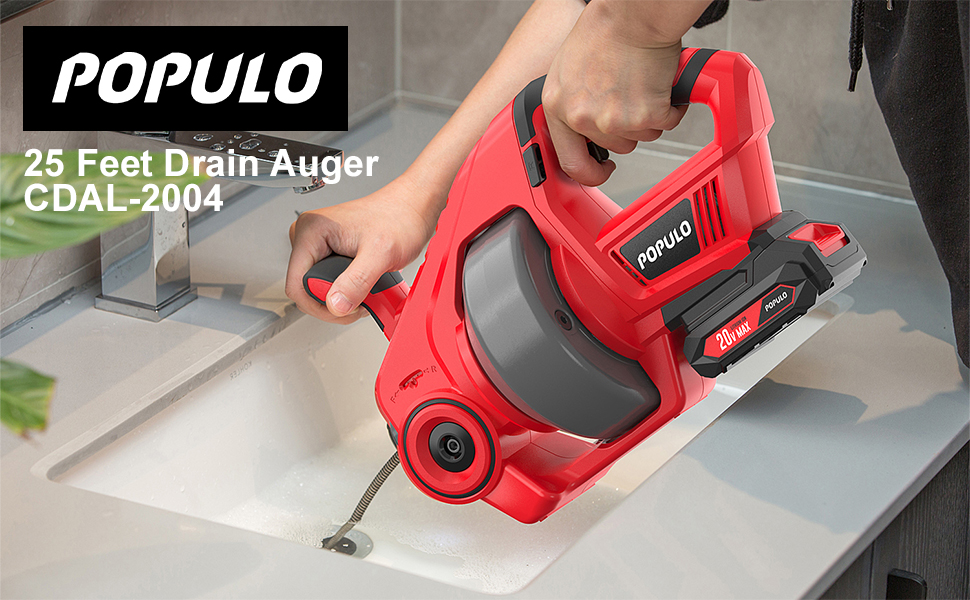 Features:
✭Easy use! We have a video to introduce how to use it. The Flexible Cable (7.5mm) and 20V Battery are changeable and amazon is selling it! Snake drain clog remover.
✭If you have any questions for the snake for shower drain, Please Contact Us via Amazon or Email Customer service. We will reply to you in 24 hours!
✭LITHIUM ION 20V MAX & VARIABLE SPEED - Powers up for a longer runtime. Battery fuel gauge easy to check how much power is left and when it needs to be recharged. The Lithium ion battery pack is interchangeable with other tools part of Populo 20V Max System, and we sell the battery in amazon! It is changeable! You can adjust the speed freely to suit different projects, by applying different forces on the switch to adjust the speed up to 560 rpm.
✭Toilet Auger ALL-IN-ONE Equipped:25 Ft reinforced flexible cable (7.5mm) It is changeable! Clears clogs with ease from drains from ¾ up to 2 in wide including sinks, toilet and bathtubs. Powered forward and reverse feeding mechanism make the cable down or back drains automatically and cable lock setting holds cable in place while tackling tough clogs.
✭ERGONOMIC DESIGN & LED Work Light: - delivers comfort and control, rubberized grip handles create a better working experience. Built-in LED work light increases the visibility and precise control. On-board rear drain port prevents water build up in the drum.
Lithium Ion Battery Technology

Compact and lightweight, longer runtime and life, making it a cordless tool, no need a power source required. The On-board Battery Fuel Gauge helps you monitor the charge precisely, easy to check the remaining of battery charge and when need to be recharged. so there's less downtime on the job

Simple Operation Control

Push the operation lever forward to F position and pressing switch trigger - Auto feed.

Push the operation lever back to R position and pressing switch trigger - Auto back.

Keep the operation lever in the middle (0 position) and pressing with trigger - Cable lock.

Variable Speed

Get you an optimum speed by pressing different strength on the switch trigger for different applications.
LED Work Light

Illuminates job site for increase visibility.

Replaceable Reinforced Flexible Cable

Segmented design allows to replace cable easily.

On-Board Rear Drain Port

Prevents water build up in the drum.