Harris Farms Nurture Right Egg Incubator for Hatching Chicks - Holds 22 Eggs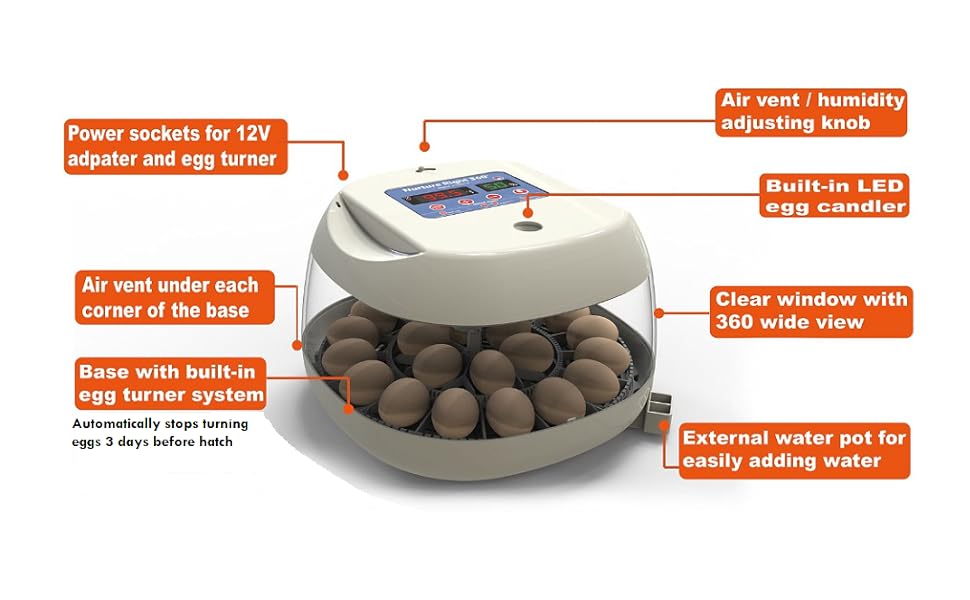 Features:
FOR CHICKENS, DUCKS & PHEASANTS: This incubator for hatching eggs can hold up to 22 chicken eggs, 12-18 duck eggs and 22-24 pheasant eggs; with an automatic egg turner, temperature and humidity control, hatching eggs has never been easier.Allergen information : Eggs. Number of Items : 1.
360° VISIBILITY: Our egg incubator features 360° viewability, allowing you to monitor eggs from any angle; whether you're using it as a chicken incubator or duck egg incubator, you'll have complete visibility of your eggs throughout the incubation process
360° INDUCED AIRFLOW: Achieve optimal hatch rates with our egg incubator's 360° airflow circulation; our Nurture Right Incubator ensures uniform heat distribution and temperature stability for hatching, making this the perfect chicken egg incubator
HUMIDITY CONTROL: Our user-friendly duck egg incubator features an easy-to-read humidity control display and knob; these advanced features are crucial for hatching eggs, where precise humidity is essential for successful hatching
AUTO TURN & STOP: Effortlessly achieve optimal hatch rates with our chick incubator; equipped with automatic egg turning and a convenient stop feature, egg turning stops three days before hatching, allowing chicks to adjust themselves for ideal hatching
Clear window with 360° wide view.