hOmeLabs Beverage Refrigerator and Cooler - 120 Can Mini Fridge with Glass Door for Soda Beer or Wine
Features:
MODERN ELECTRIC BEVERAGE COOLER - This 3.2 cubic feet, free standing beverage refrigerator features an elegant see through, left hinge glass front door with a stainless steel frame for you to view your wine, beer or soda at a glance. Its white LED interior light illuminates for easy, nighttime selection of your favorite chilled drink
LARGE CAPACITY BEER & WINE CHILLER - Under counter beverage cooler with large, internal storage design is equipped with 3 adjustable and removable chrome shelves. Drinks organizer conveniently holds up to 120 standard sized soda or beer cans, or several bottles of wine
ADVANCED TEMPERATURE CONTROLS - Single zone beverage mini refrigerator has an easy touch temperature control that cools down to 34°F, and large digital display for quick monitoring and setting of any temperature. Its memory function automatically restores the preset temperature of the cooler in case it becomes unplugged, or in the event of a power outage
POWERFUL COOLING SYSTEM - Our 120V 240W heavy duty, vertical chiller features energy efficient advanced technology, and a whisper quiet compressor that works with a small convection fan to cool quickly, and keep consistent air circulation for a uniform temperature supply inside. Perfect for an office, dorm, apartment, RV, restaurant, home kitchen and more
AUTO DEFROSTING FUNCTION - Beverage cooler is also designed with an additional temperature sensor for auto defrost mode. External size: 18.9" W (front across) x 33.3" H (top to bottom) x 17.30" D (front to back). Internal size: 16" W x 29" H x 12" D. NOTE: Images show EXTERNAL Dimensions rounded UP to nearest decimal. Warning: Do not use this cooler to store fresh foods, such as meats, vegetables, fruits, etc. This product can only be used to chill beverages.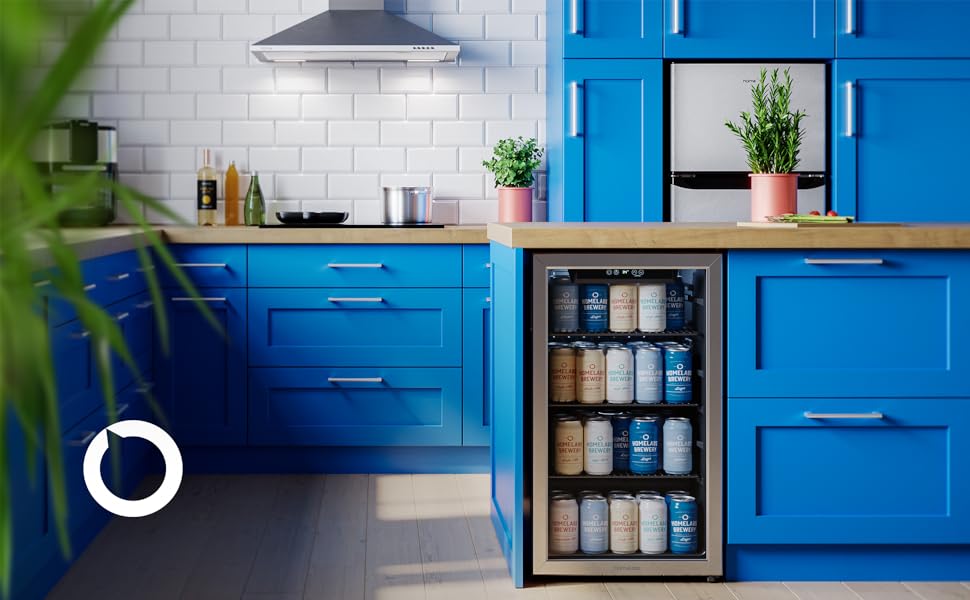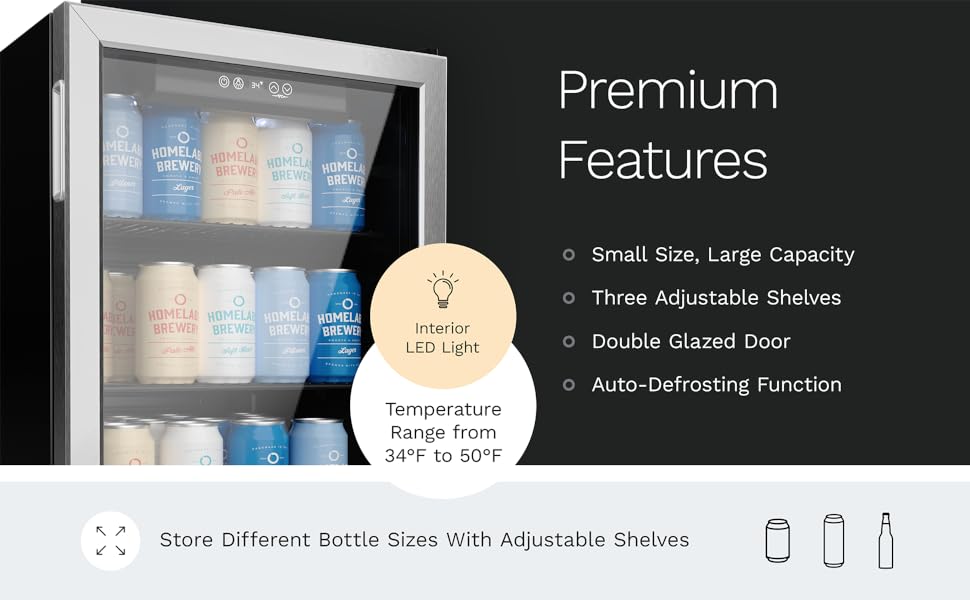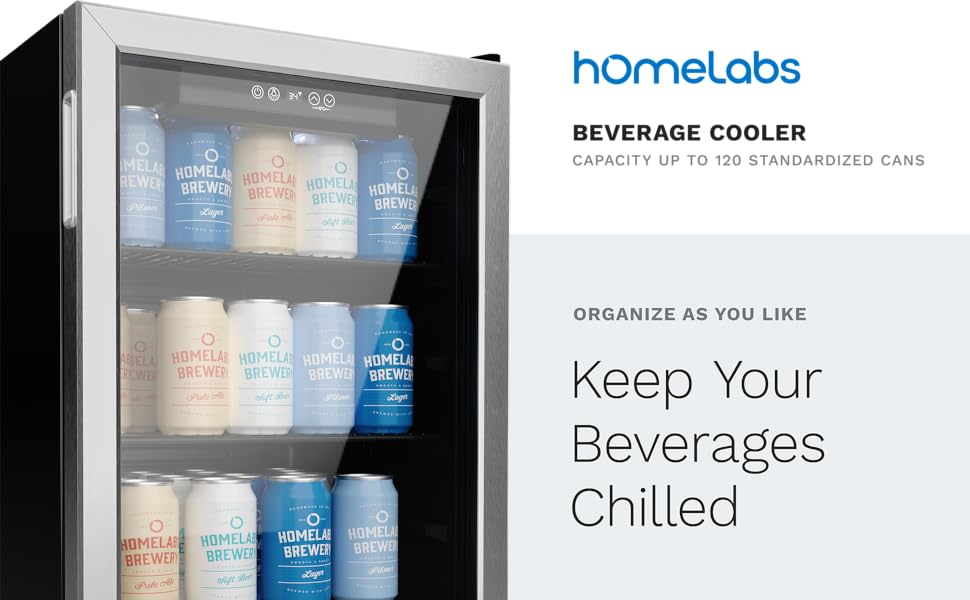 Product Details
External Dimensions (inches): 18.87 Wide (front across) x 31.25 High (top to bottom) x 17.30 Deep (front to back)
Voltage: 120V, 60Hz, 240W
Capacity: Up to 120 Standard Size Cans
Temperature Range: 34°F to 50°F (1°C to 13°C)
Materials: Stainless Steel Frame, Glass Door
Color: Silver and Black
Compressor-based with Adjustable Temp Control and Auto Defrost Function
Features 3 removable shelves, air convection fan, LED digital display & adjustable feet
Product Safety & Care
Unplug the cooler
Wipe the door seal with smooth damp cloth
Remove the shelves and wipe the interior with smooth and clean cloth
Reconnect when the cooler is clean and dry
IMPORTANT: If the unit has been in any other position than upright, leave it upright for 24 hours before plugging in for the coolant to settle
Package Dimensions: 37.0 x 21.0 x 20.0 inches