Landzie Lawn & Garden Spreader with Upgraded Side Clasps - 24" x 17" Inch Peat Moss Spreader and Compost Spreader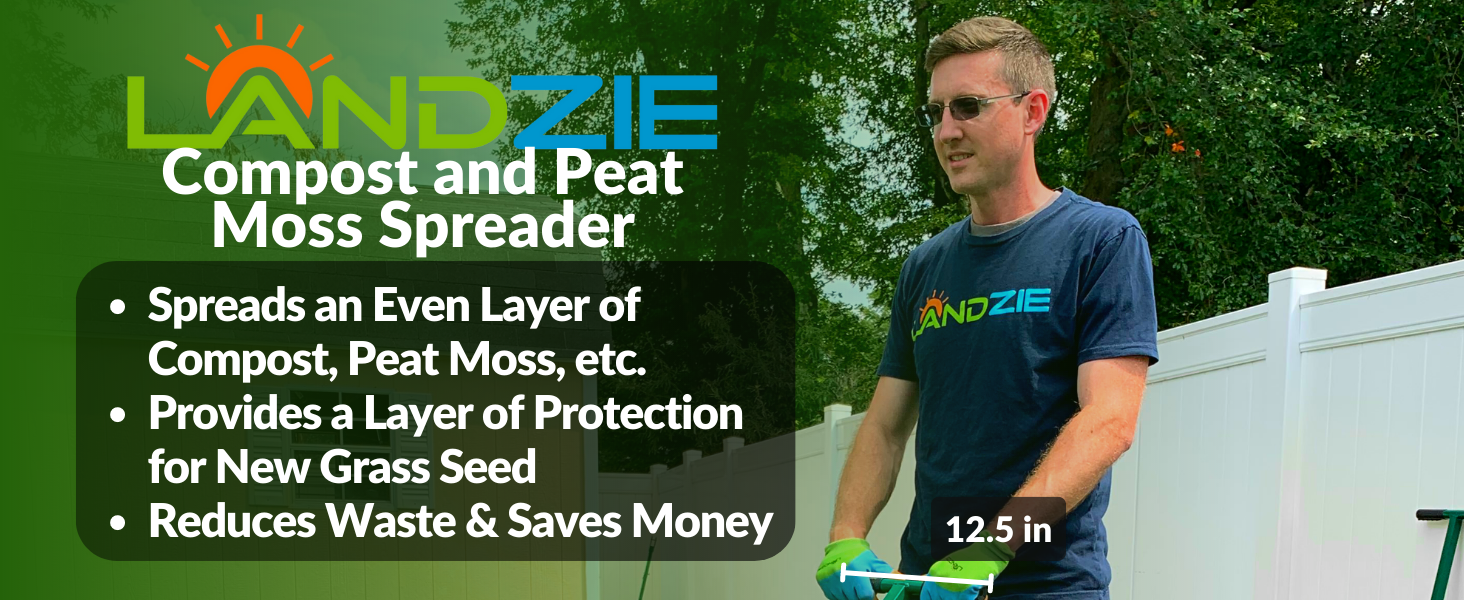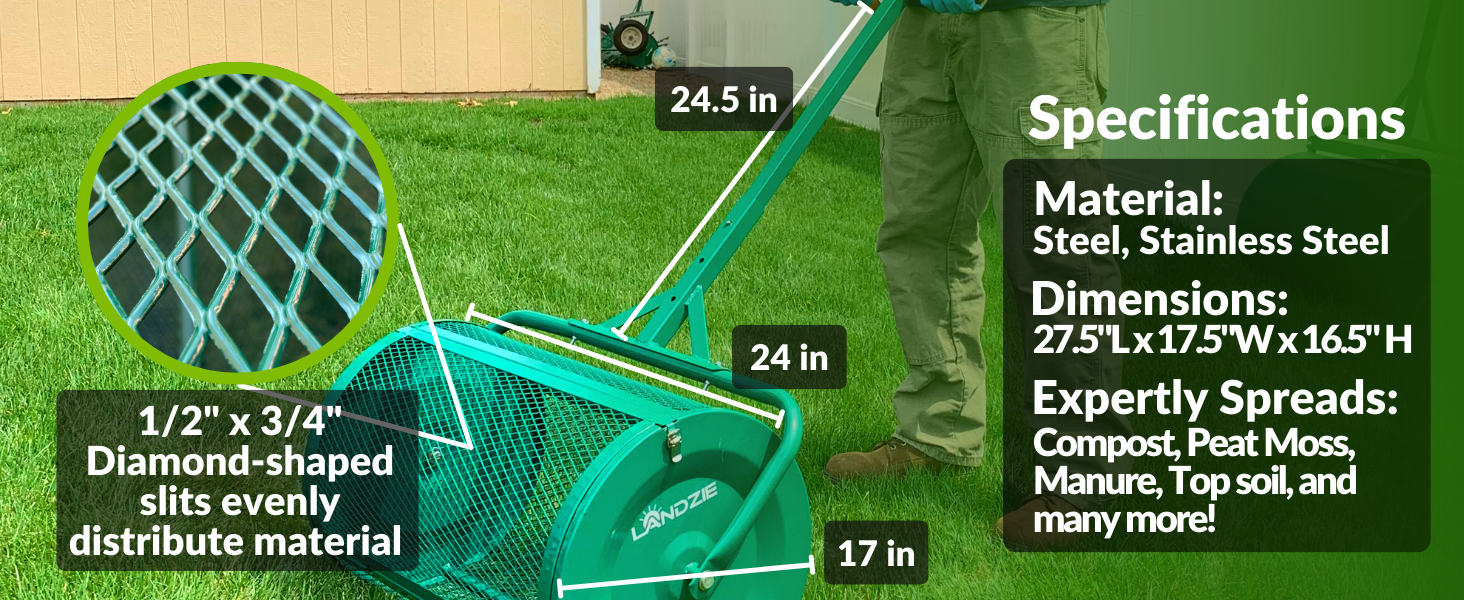 Features:
SIDE CLASPS UPGRADE DESIGN: The innovative side clasps of the Landzie Lawn Spreader have achieved success in the possibility of wear and tear on its peatmoss spreader by strategically placing it on the sides to provide additional support and durability while providing more even and consistent coverage of peatmoss on lawns. With diamond shaped 1/2" x 3/4" opening slits, a powder coated finish, and comfort grip handles, Landzie assures you can buy in confidence with their high-quality products.
ACHIEVE THE LAWN OF YOUR DREAMS: The Landzie Compost & Peat Moss Spreader is your go-to source for a lush, professional looking green lawn this season. This walk behind topdressing roller nurtures your grass by evenly distributing peat moss and soil across your yard, drastically reducing waste and saving money. Use this spreaders for lawns for compost, peatmoss, topsoil, topdressing, manure, mulch, dirt, greenery and so much more. The lawn you've always desired is now only a click away.
QUICKLY GET THE JOB DONE: The 24" metal mesh basket is equipped with diamond shaped 1/2" x 3/4" opening slits that allow for consistent and uniform distribution of topdressing material on your yard. Our walkbehind compost spreader for lawn is heat treated with a powder coated finish for protection against rust and corrosion. Lightweight material and comfort grip handles with a long clip-in pole handle make lawn care even more enjoyable. Buy with confidence with the Landzie Lifetime Guarantee.
BREAKS UP CLUMPY MATERIALS & SEPARATES WASTE: Drastically reduces the hassle and mess of spreading peat moss by separating larger chunks from granular material as it tumbles and stirs throughout the metal mesh screen cage drum. The hinge door swings open for easy filling. Two side clasps of the garden spreader secure the load, ensuring the basket stays closed during turning and tumbling operation. When spreading is done, open the latch and remove excess material from the bin before refilling.
BUY WITH CONFIDENCE: The Landzie Guarantee - Here at Landzie, nothing comes before our customers. Since day 1, we've built our entire business with you, our customer, in mind. We guarantee 100% satisfaction for every purchase and will work rigorously to achieve that goal. Landzie products are designed to the highest standards in the industry, ensuring you are getting top-quality items at an affordable price. When purchasing from Landzie, rest assured knowing that we've got you covered!