Neewer X12 Aluminum Alloy Teleprompter for iPad Tablet Smartphone DSLR Cameras with Remote Control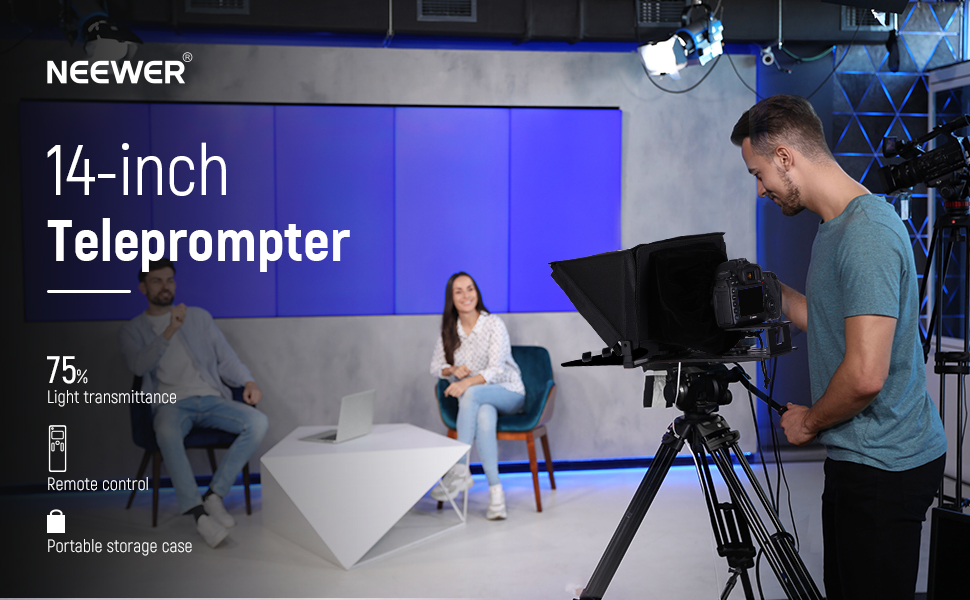 Features:
【Easy to Read with HD Display】Thanks to an innovative coating technique, the high quality beam splitter glass ensures 75% light transmittance. With its adjustable hood and leading technology glass, the text on your tablet is clearly reflected onto the high definition display of the teleprompter. The reflected text can be read up to 10'/ 3m away. Note:It is NOT compatible with wide angle lens and the focal length of camera lens needs to be more than 28mm.
【Upgraded Smart Control】 The NEEWER teleprompter supports intelligent control via the included RT-110 remote control and the NEEWER teleprompter app. You can easily pause, speed up or slow down, and turn pages with just one simple press. Pair the RT-110 remote control with your smartphone in our NEEWER teleprompter app via Bluetooth connection, rather than a direct Bluetooth link from your smartphone or tablet
【Effortless Assembly】 With clear instructions for installation, the teleprompter can be set up within minutes. The collapsing design allows for easy storage and transport. The dual cold shoe mounts and 1/4" threads on both sides, as well as the full body of aluminum alloy, make this teleprompter lightweight yet durable enough to hold your camera, tablet, microphone, LED lights and other accessories in place while making videos
【Wide Compatibility】 The teleprompter can fit all models of smartphones or tablets up to 9.84" x 8.68" / 25cm x 22cm, compatible with iPad iPad Air iPad Pro 11", etc. Its lens hood can be adjusted to suit cameras and mobile phone lenses of various sizes. Note: NOT compatible with iPad Pro 12". The upgraded NEEWER teleprompter app is compatible with iOS 11.0 or later / Android 6.0 or later
【Package Contents】 1 x NEEWER Teleprompter, 1 x RT-110 Remote Control, 1 x Phone Holder, and 1 x Carrying Case (the upgraded NEEWER Teleprompter App is available for download in App store, Google play)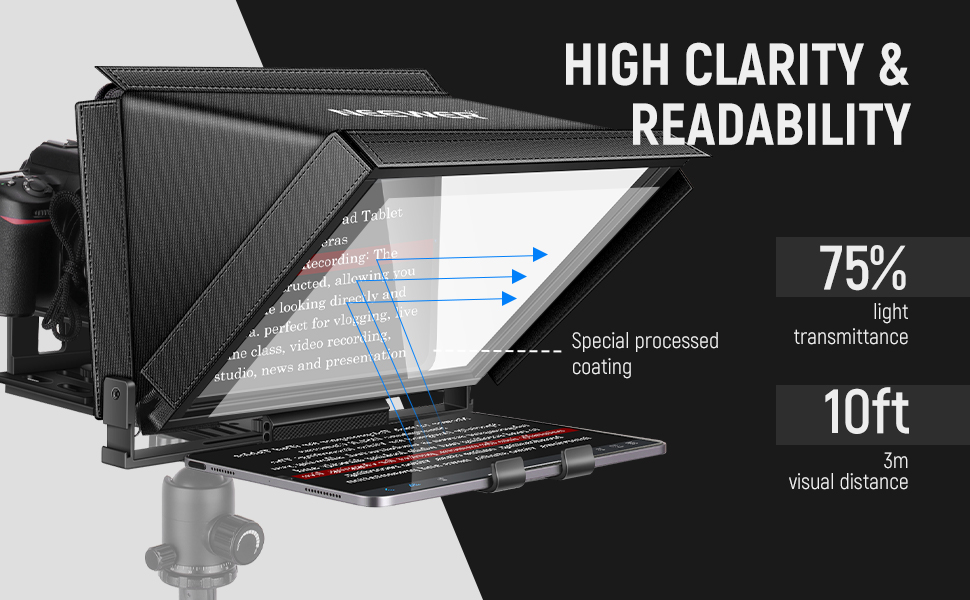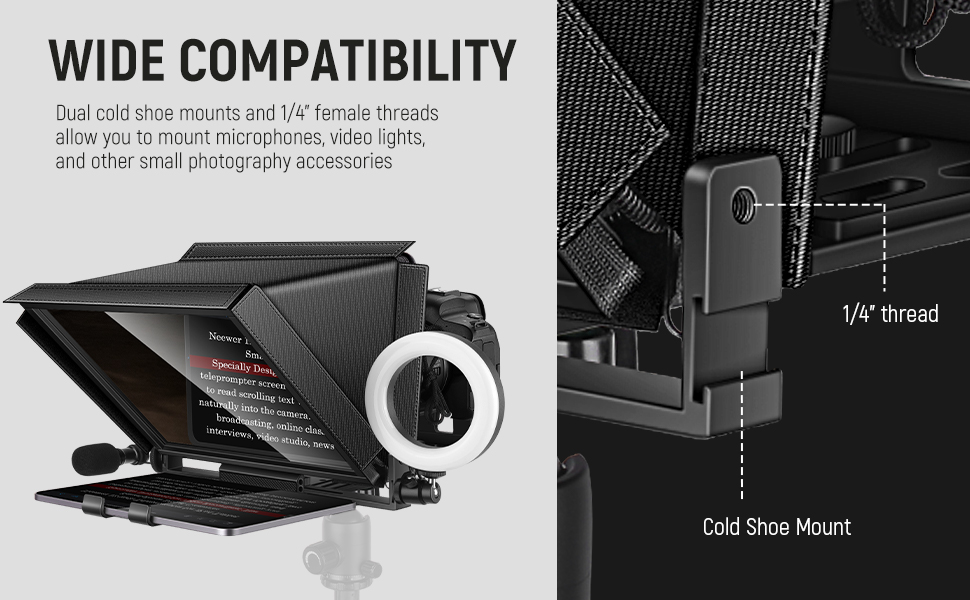 Remote Control
• Scan one of the QR codes above (iOS/Android) to download and install the App for the teleprompter.Connecting the remote to the App
1. Long press the Power Button for 1 second to turn on the remote. A blue indicator will start flashing on the screen.
2. Turn on the Bluetooth function on your phone and log in the teleprompter App. In the App, search for the Bluetooth signal "NEEWER RT110" and click on it to connect with the remote. When successfully connected, the blue indicator will stop flashing.
Then you can import or manually enter text, set the font size, play speed, background and font color.The remote also allows you to easily pause, speed up or slow down, turn pages via the remote control.