Oster Blender | Pro 1200 with Glass Jar, 24-Ounce Smoothie Cup, Brushed Nickel

Features:
Smart settings technology and 7 speeds including 3 pre-programmed settings for the most common blender creations
Dual direction blade technology for extra blending power to chop and grind with precision extra wide 3.5" blade system allows ingredients to flow down into the blade easier for faster and smoother results
1200 power watts and 900 watts of ice crushing power
6 cup dishwasher safe Boroclass glass jar withstands thermal shock
Pulse feature for added control and precision; Featuring a 50% larger blade system (compared to previous Oster blender models) and patented dual direction blade technology that blends in forward and reverse motion
Oster 10 year Duralast all metal drive limited warranty for lasting durability
Includes extra large capacity 24 ounces smoothie cup
Dimensions: 14.25 inches x 7.25 inches x 8 inches, cord length:16 inches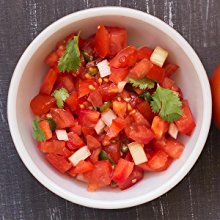 Pico de Gallo
½ bunch fresh cilantro.
3 firm tomatoes, cut into chunks.
1 white onion, cut into quarters.
1 jalapeño pepper, halved (optional).
¼ cup lime juice.
1. Place food chopper onto blender base, then add cilantro and pulse until desired texture is reached. Set blended ingredient aside in a mixing bowl.
2. Repeat for each of the other ingredients, adding to mixing bowl after blending.
3. Combine ingredients in mixing bowl, incorporating everything together with the lime juice; add salt to taste.
4. Serve with your favorite tortilla chips and enjoy!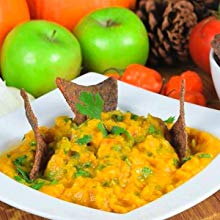 Harvest Salsa
1 onion, roughly chopped and 1 bulb garlic, peeled.
3 pre-chopped habanero pepper.
1 can pumpkin puree and 1 tablespoon apple cider.
3 ripe tomatillos and 2 green apples, peeled & chopped.
1 small clove fresh ginger and ½ teaspoon apple pie spice.
1 tablespoon extra virgin olive oil and ½ cup sugar and ½ teaspoon salt and fresh parsley.
1. Add onion, garlic, habanero pepper, pumpkin, and apple cider to Oster Pro Blender & use the pre-programmed salsa setting to blend.
2. Add tomatillos, sliced apple, ginger, apple pie spice, olive oil, sugar, salt, and parsley and pulse until combined.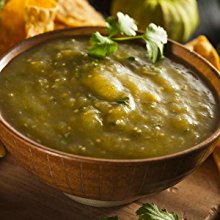 Tomatillo Salsa
2 tablespoons water.
1/2 pound tomatillos.
1/2 cup white onion, coarsely chopped and 1 garlic clove, chopped.
1/2 small serrano pepper, quartered.
1/8 teaspoon salt.
2 tablespoons cilantro leaves, coarsely chopped and 1 teaspoon lime juice.
1. Place the first six ingredients into Oster blender.
2. Transfer to a small saucepan; bring to a boil. Reduce heat and simmer until slightly thickened
3. Stir in cilantro and lime juice.
Tip: Serve warm in a quesadilla, tacos, or serve as a dip with your favorite tortilla chips.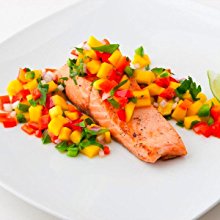 Mango Salsa
1/2 cup diced peaches, fresh or canned.
1 mango, pitted, peeled and diced.
1/2 red pepper, diced.
3 green onions, chopped.
1 teaspoon freshly grated ginger.
1/4 cup chopped parsley.
1 jalapeno pepper, seeded and chopped (optional).
2 tablespoons lime juice.
1. Toss all ingredients together.
2. Refrigerate 1 hour before serving.