Astarexin Red Light Therapy Lamp with Stand - 660nm Redlight and 850nm Near Infrared Light Device for Body Pain Relief Skin Care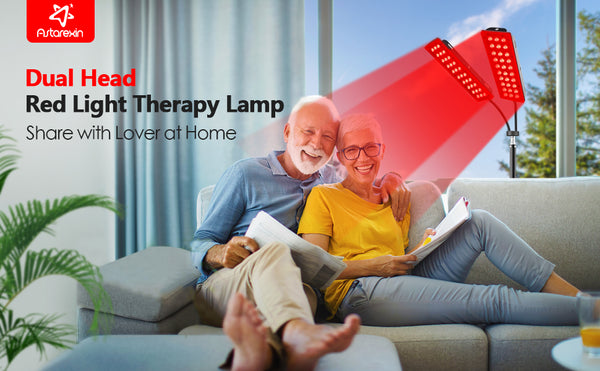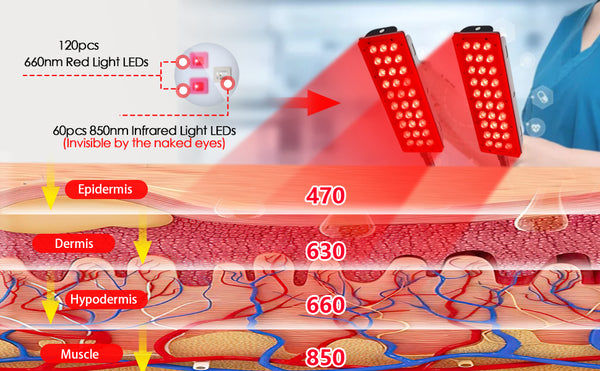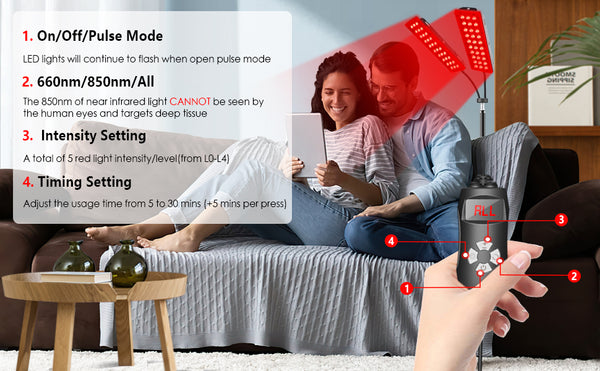 Features:
HOME LIGHT THERAPY PANEL LAMP: Say goodbye to expansive & time consuming light therapy in salons, Astarexin red light therapy for body has 660nm red lights and 850nm near-infrared led red lights, features with 4 adjustable brightness levels, each level has steady luminance and pulse modes to meet different red light therapy needs for body pain relief, one-set-of-device solution to various needs according to your practical usages.
INFRARED HEAT TO LOOSEN UP BODY: the 850nm near-infrared led red light (non-visible near infrared light) penetrate and cause thermal effects to increase tissue temperature, promote blood circulation, enhance metabolism, improve cell vitality.
ENERGISE YOUR CELLS AND RECOVER EASIER: the 660nm red light (visible red light) can reach deeply into the skin so that it stimulates repairing cellular and increasing circulation, which has been proved by tons of scientific studies, you are gonna enjoy the benefits by using this red light therapy device.
FLOOR-STANDING & WALL-MOUNTED: Comes with stand and hang up accessories, which allows you to have a red light therapy in more occasions at home without any space limit, in the meantime, it makes it a true red light therapy device for whole body, you can adjust it to expose almost every parts of your body to bask in the led light. (WARM REMINDER: please wear the included glasses when using for face)
LIGHTWEIGHT CAN BE MOVED WITH ONE HAND: The total weight of the package is about 55oz, about the same weight as a laptop, it's very handy for moving and storage.
660nm of red light
This light can be seen by the human eyes and targets skin cells, stimulates cellular repair and increases circulation.
850nm of near infrared light
This light cannot be seen by the human eyes and targets deep tissue, good for bones, joints, nerves, and deep muscle problems, which is very effective in relieving chronic pain.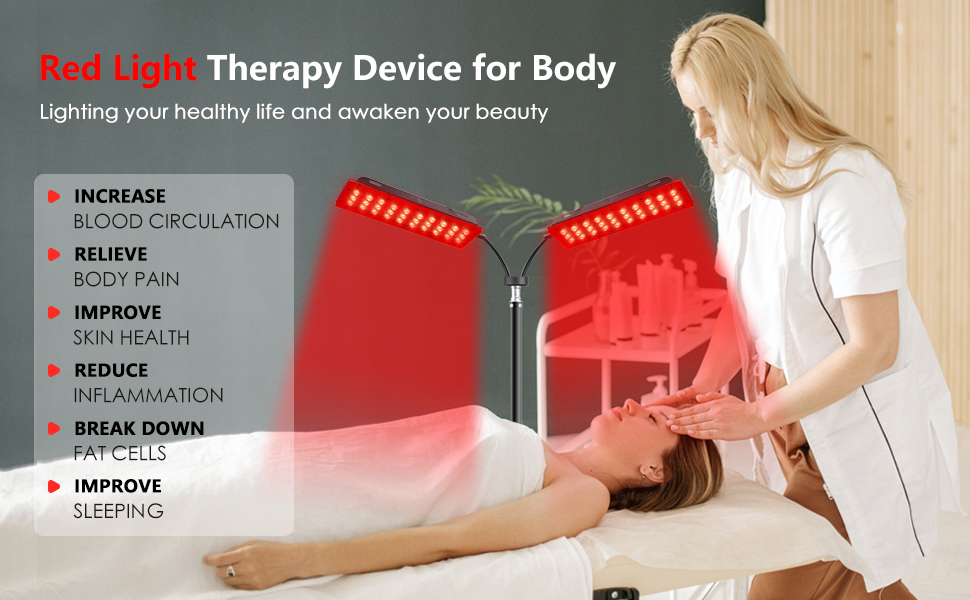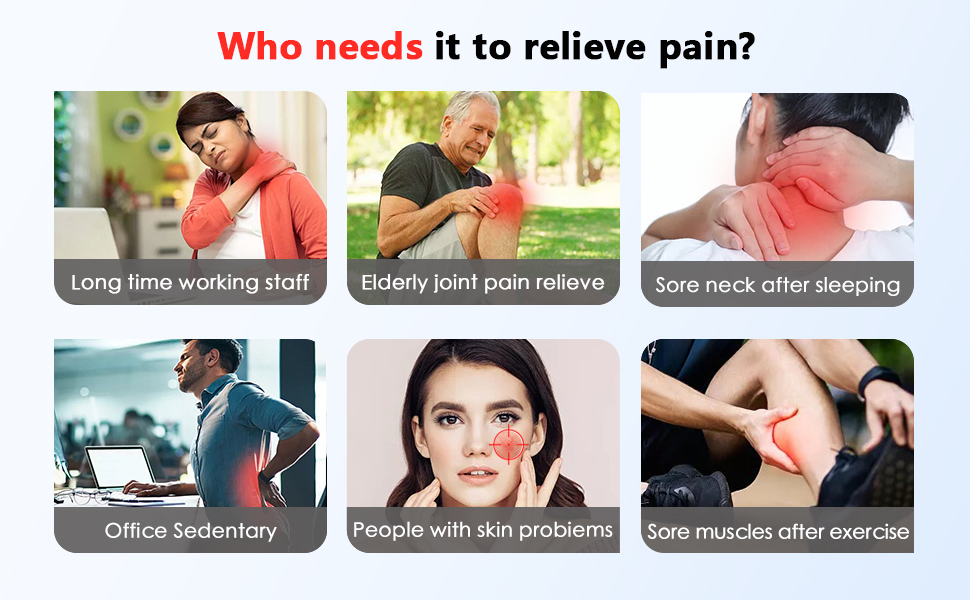 Q&A of Red Light Therapy Lamp Device
Q: Is this near infrared light?
A: Yes, they are red light & near infrared light. The range in wavelength is 700 - 1000nm for infrared.
Q: How many watts is this light?
A: The single head lamp is about 18 watts, the double head lamp is about 29 watts.
Q: What are the dimensions of the panels?
A: The size of a single panel is: 3.2* 10 inches.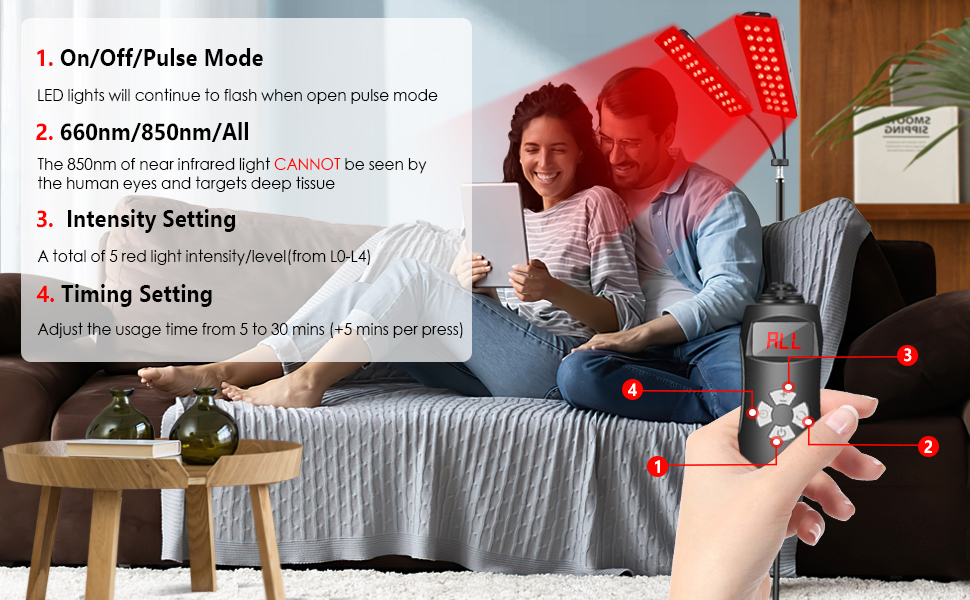 For best results, please follow these basic guidelines:
1. Keep yourself 6 – 12 inches from the device while exposing your skin for the best results.
2. Apply the red light panel for 10-30 minutes of continuous using to help improve your discomfort.
3. Use your red light panel device 3-7 times a week depending on your need.