T4TREAM Nightstand with Charging Station, 18 Inch Vintage End Table with 2 Drawers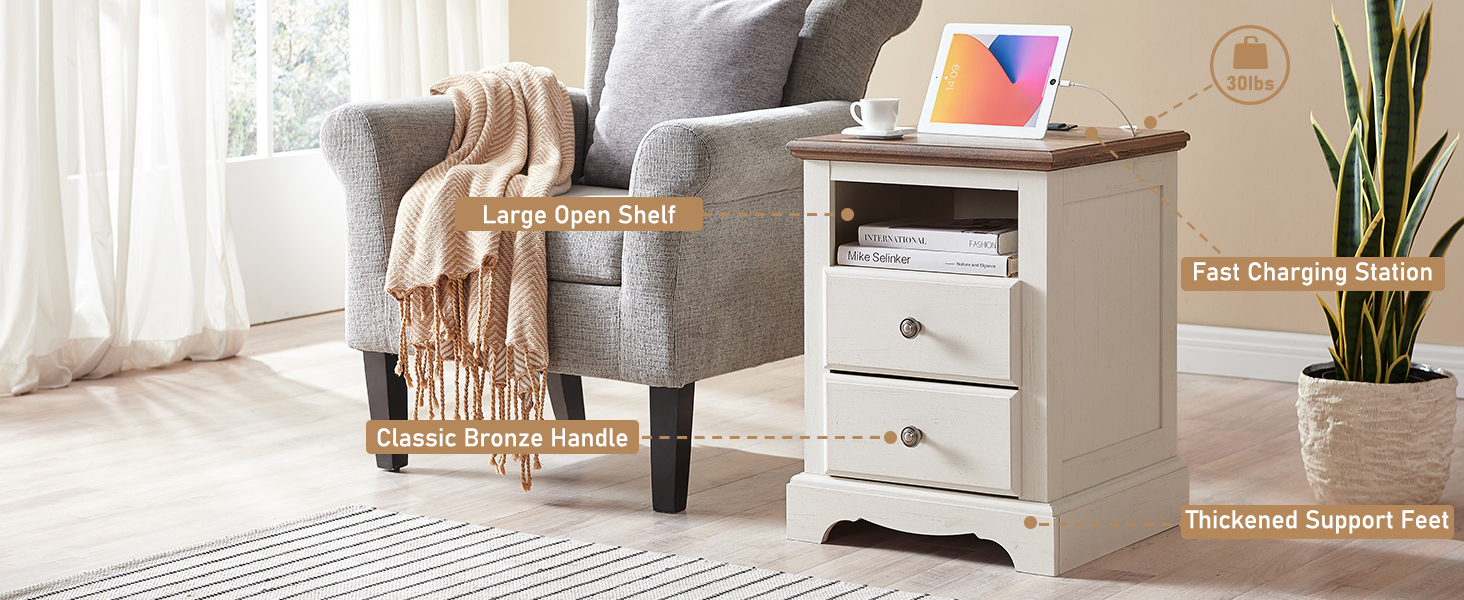 Features:
Dimensions - 18''L x 18''D x 24''H. Made of sturdy engineered wood with a high quality water resistant finish, the nightstand is easy to clean and maintain, ensuring a long life. 2''*2'' legs provide great durability and stability. For those who love vintage style, this is a simple and striking combination for most bedroom must-have nightstands.
Vintage Design - Classic bronze hardware knob pieces and has a brown top combined with a white color block design make this nightstand a bedroom staple. What a charming bed side complements for any vintage inspired enthusiast.
Charging function with USB Ports - This nightstand with charging station arranged with 2 Standard AC Outlets and 2 USB ports, with a 2.3'' round hole at the back for organizing cords, making the desk neater while providing convenience for charging options for all your gadgets.
Spacious Storage - Keep your essentials organized and easily accessible with twosliding drawers and an open shelf. The smooth gliding wheels ensure that thedrawers open and close smoothly every time. The tabletop is also perfect for matching various styles of table lamps.
Easy to Assemble and Service - Our nightstand cabinet comes with clear step-by-step installation illustrations and all kinds of screws and pieces are labeled. It is estimated that it will take 30 - 60 minutes to complete the assemble.Any questions, plz feel free to contact us, we will always be here to serve.