USUIE Red Light Therapy Belt with Timer for Back Shoulder Waist Muscle Pain Relief with 10000 mAh Power Bank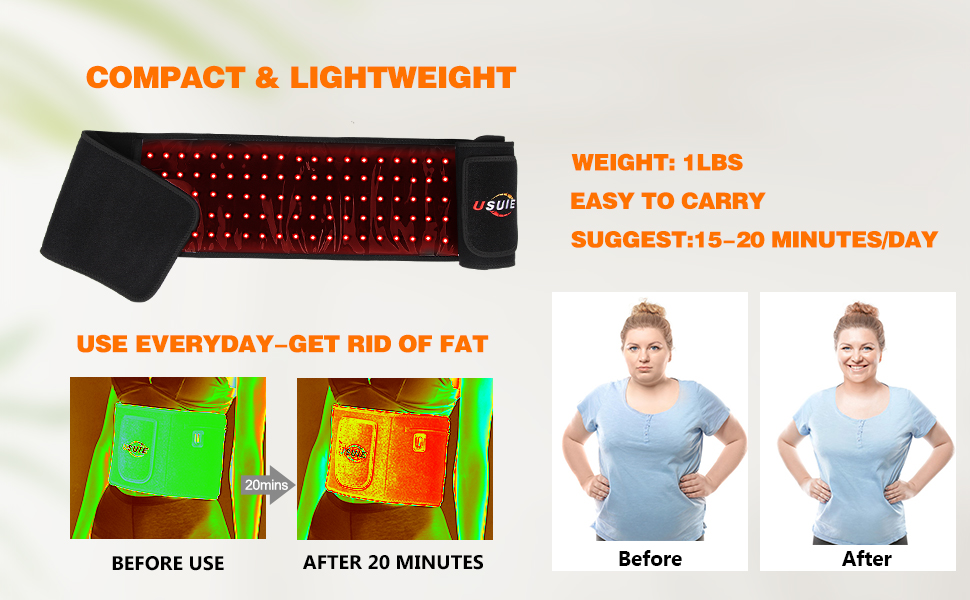 Infrared Red Light Therapy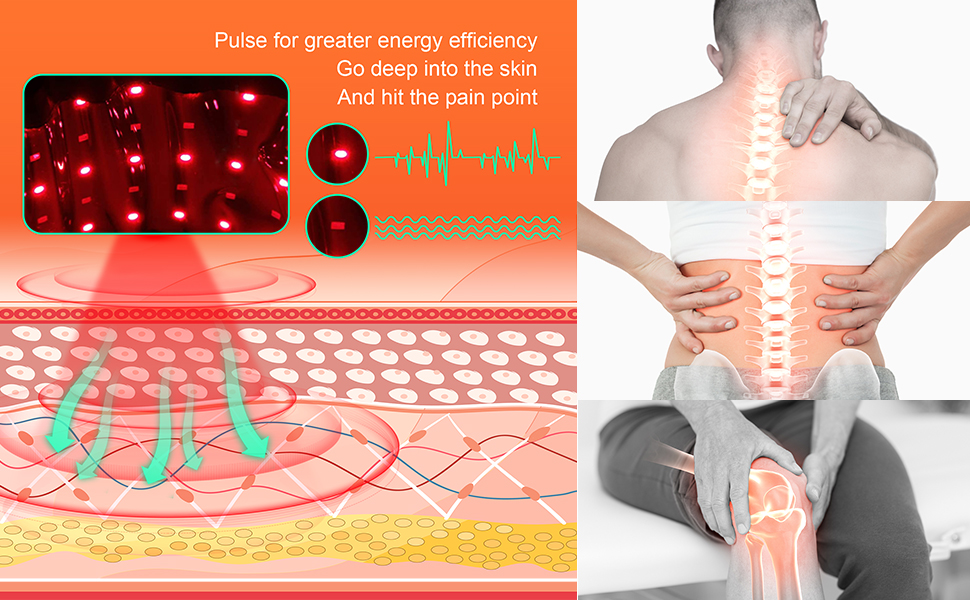 Efficacy description
1. The red light therapy belt can be used for shoulder ,back pain ,abdomenal pain,leg, knee pain relief,also can help abdomen for fat loss
2. The red light therapy wrap with soft comfortable & flexible design, can help focus on pain area therapy
3. The therapy belt with 660nm & 850nm wavelengths reaches deep layers of the skin,promote blood circulation, enhance metabolism, improve cell viability and regenerative capacity
4. The control added timer function,you can set the therapy time in 10-90 minutes, added the brightness adjustable function,which can regulate the required brightness by controller according to individual demand.
Features:
TWO PROFESSIONAL GRADE LED LIGHT THERAPY: 660nm red light (visible light) it can penetrate the skin epidermis, promote cell metabolism, repair damaged skin, 850nm infrared light (invisible light) it penetrates deeper than red light, can have a thermal effect on muscles, can accelerate blood circulation, Pain relief and relaxation of muscle tension.
SAFE AND NATURAL, REGAIN YOUR HEALTH: Enjoy expensive light therapy in the comfort of your home, about three weeks, free your body from pain, age and injury! Great for sports injuries, neck and shoulder stiffness, back pain, muscle pain and tissue repair, this red & infrared light therapy can be used on multiple areas of the body.
Recommended by professional doctors: Many professional doctors are also using this product and have achieved good results. The device has also obtained international certification.
COMFORTABLE, HANDS-FREE DESIGN: This red light therapy belt for body weighs 0.74 lbs and can be used hands-free at home. It comes with two power cords, one with adapter and one with USB interface. The power cord with USB is for power pack. (THE POWER PACK IS NOT INCLUDED IN THE PACKAGE). If you do not use power pack, we recommend that you use the power cord with adapter, which uses wide voltage DC 100-240 V, AC 5V2A, which is longer, safer and more applicable, also It can be put in a handbag.
GREAT GIFT: Makes a thoughtful self-care gift for women and men, as a birthday gift, anniversary gift, and holiday gift. We offer a 60-day money-back policy and one year warranty, as well as attentive customer service support.