Uyittour Collapsible Wagon Cart Heavy Duty Foldable, Utility Grocery Wagon for Camping Sports Shopping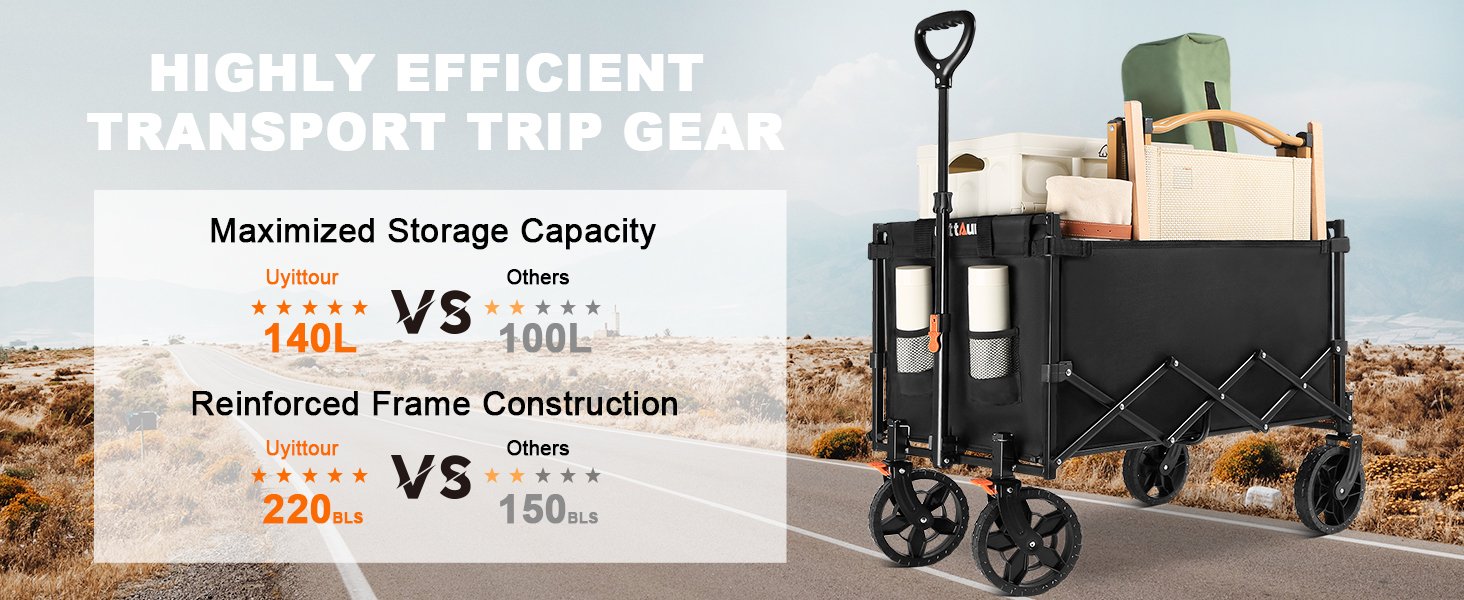 Features:
【Portable Master - The Ultimate Solution】: Ready for an upgrade? Our folding wagon is a game-changer!Our innovative structural design allows you to disassemble the wheels, fold the wagon, and store it like a compact briefcase. It's half the size of other wagons, making it the ultimate solution for space-saving. This is a must-have for anyone who loves the outdoors but hates the hassle of carrying bulky equipment.
【Maximized Capacity - More Surprises】: At Uyittour, we've made sure that our folding wagon doesn't compromise on capacity. In fact, our wagon has a 30% larger capacity than other standard sized wagons, reaching up to 140L. And as an added bonus, we've included two cup holders that give you even more room for your essentials. Get ready to pack it all in and hit the road with confidence!
【Extraordinary Longevity - Built to Last】: Our folding wagon is built to withstand even the toughest of outdoor adventures. The high-strength steel tube frame can carry up to 220lb, and is designed to be rust and fade-resistant. The thickened 600d Oxford cloth is tear-resistant and easy to clean, making it perfect for outdoor use. You can count on our folding wagon to be your trusty companion for years to come!
【Ultimate Operability - Smooth and Maneuverable】: We've designed our folding wagon with ultimate maneuverability in mind. The all-terrain wheels ensure a smooth ride on any road, and the front wheels have a 360-degree free rotation with high-precision steel shafts for maximum flexibility and control. Whether you're navigating crowded streets or rough terrain, our folding wagon will get you where you need to go with ease.
【After-Sales Guarantee Your Satisfaction】: We're committed to delivering excellence to our customers and ensure the quality of our products. If you experience any issues, please don't hesitate to contact us. We're confident that our folding wagon will exceed your expectations and become your go-to travel companion for years to come!
【The Ultimate Assistant for Everyone】: With its lightweight design and fold-down frame, this folding wagon is the perfect solution for everyday use. Whether you're loading it into your car or hopping on and off public transportation, it's a versatile and practical tool. If you're looking for a wagon that's both affordable and highly functional, then Uyittour is the way to go! Don't miss out on this must-have gadget that is sure to make your life easier and more enjoyable.